Snowplowing - Salting - Hauling
Donnie Mac's Landscaping is fully insured and equipped to provide reliable snow removal services for your commercial property. We are available 24 hours per day, 7 days per week. Call our office at 920/965-2222 for an estimate or email us at info@donniemacs.com.
-Fully Insured, References Available
-Sorry, no Residential Snow Removal Available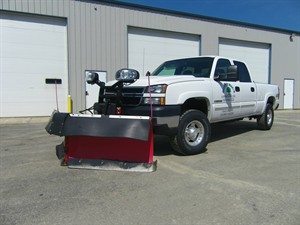 Good morning Steve (property manager), I just wanted to send a note telling you that the company you have hired to snow plow here is the best. I get to the office at 4:30 am and they have everything spotless. They even were here yesterday at 3 pm to clear some of the snow from the big storm. I have seen many snow removal companies in my years, but you have the best I have ever experienced.
-Tim (Property Tenant)
We have been using Donnie Mac's Landscaping for the past 3 years for snow removal at our 2 facilities, and are very satisfied with the service.
-Tom Knaus, Maintenance Director of Rennes Health & Rehab Center & Renaissance Assisted Living
When there is a snowfall, I know that Donnie Mac's will be at our site removing snow and ice, so that we can start our production work on time with no problems. They provide reliable, quality work with no need for follow up. If issues arise, Donnie is at our site in minutes to rectify and check on the problem. Their snow removal service has saved our company hours of time.
– Employee of private local manufacturing company