Paver Patios & Walks
A paver patio is the gateway to your very own relaxing retreat. Our award winning patio designs are customized to fit your lifestyle and budget so the possibilities are endless. The paver patio concept has become the most popular outdoor living space option because of long term value and the enjoyment of a virtually maintenance free area. Our designers and installers use creative techniques to provide solutions for almost any landscape terrain, including raised patios, pool and hot tub decks, and waterfront environmental paver areas.
Seatwalls and pillars set boundaries and help to enclose your outdoor living space while adding character and creative charm. Many of our patio designs use pillars as a source to incorporate subtle outdoor lighting features into the patio area.
Creating an outdoor living space enhances your total home enjoyment experience. We love to get creative with outdoor kitchens, built-in grills, fireplaces, and in-ground firepits. Entertaining your family and guests in your own backyard paradise will become your favorite pastime.
We use a wide range of patio products that are durable and patio furniture friendly in colors and styles that are sure to compliment your home and environment. Donnie Mac's Landscaping has been installing paver patios and walks for over 25 years and we stand behind our work. Our clients can feel comfortable knowing their investment is built to last.
« Return to list of all services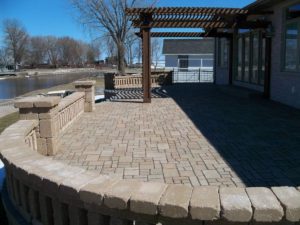 View photo gallery
Thank you very much for the great job building our patio! It looks wonderful. The job was completed earlier than promised, the quality of the work is outstanding and the housekeeping was impeccable. Absolutely nothing to pick up on my part.
I will definitely use your company again for future projects and will be highly recommending you to everyone I can.
– Keith S., Tigerton, Wisconsin
Donnie,
My wife and I just wanted to thank you, your designer, and on-site team that completed our backyard patio, drainage issue, excavating, and playground area. Everyone involved was professional, knowledgeable and accommodating. We were fully aware of the challenge of the drainage and work area challege due to our wooded lot. We are very pleased with the results. Please thank Joe and his crew as well as E., our designer. Thanks!
-Kevin and Heather, Green Bay, WI